 Pyrotechnics factory Caballer FX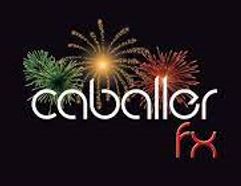 Caballer FX is a relatively young company founded in 2004, but with a proven track record in the sector through the ZAMORANO-CABALLER family line.
The current artistic director and chief fireworks technician, María José Lora Zamorano, belongs to the fifth generation of a family that began its activity in the world of fireworks in 1877. She forms part of the growing trend of women in a traditionally male sector.
Under her leadership, the company has stood out for its highly specialized technical personnel, and its handling, assembly and firing of all kinds of fireworks for a market that demands quality and safety. The company's fireworks are manufactured at its facilities in Vilamarxant (Valencia), which occupy an area of more than 200,000 m2, with a 25,000 kg storage capacity.
Its most important achievements include the 2011 Sant Sebastian Concha de Oro (Golden Shell) award and 2nd Prize at the 2015 Costa Brava International Fireworks Competition.