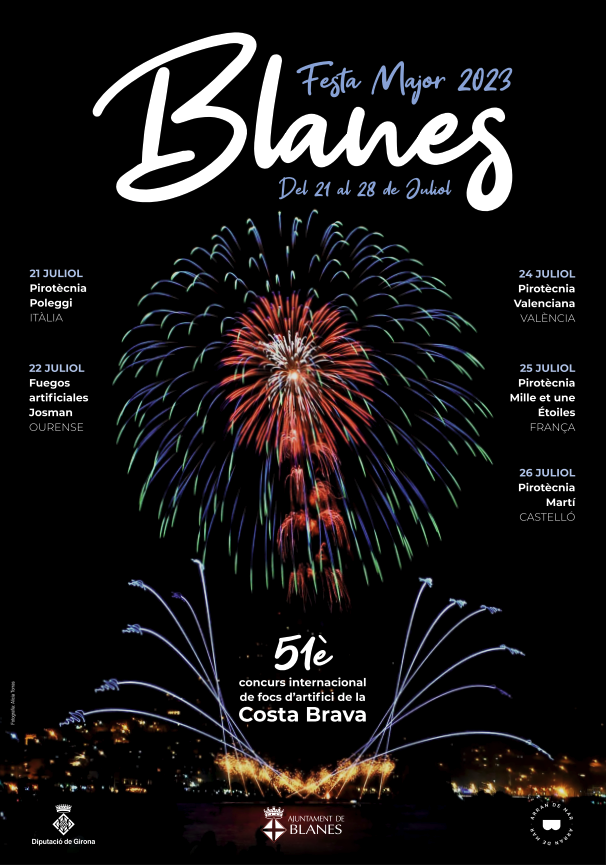 51th Costa Brava International Fireworks Competition
WITH A FIREWORKS TRADITION STRETCHING BACK MORE THAN A CENTURY, Blanes is host to one of the most thrilling and unmissable festivals of light, colour and smoke, which every July draws tens of thousands of spectators to our beaches. The fireworks are launched from Sa Palomera Rock, an incomparable setting in which to light up the sky and the faces of spectators on unforgettable summer nights al fresco at the end of July, when there's also a packed schedule of concerts.
Anyone who has visited Blanes in the last hundred years will have seen or heard of this fantastic fireworks event, which was being written about as far back as 1891. The Spanish Civil War prevented it from being held from 1936 to 1944, but every single summer since then has featured a sky lit up with fire, myriad colours and smoke.
The current format of the event, organized as a competition, is extremely popular, with attendance figures that speak for themselves: between 120,000 and 150,000 spectators flock to the town each evening —around one million people in total over the duration of the event—, filling the town's beaches, seafront and terraces as they look up to the heavens, completely transfixed by the fireworks show.
The event hasn't always been held in competition format. This development dates back to the 1970s, since when the festival has firmly established itself as attractive showcase for the world's leading fireworks companies.
The fireworks embody the spirit of Blanes' Festa Major (Main Festival) and of its patron saint, Santa Anna. They are the essence of Blanes, and this is a must-see festival.